Japan Wakayama Arida Muki Mandarin Oranges Gift Box (1kg)
This product is currently sold out.
Arida has the highest production of Satsuma mandarin in Japan!
There is a climate suitable for mandarin orange cultivation, and the blessings of the sun are fully utilised.

Arita mandarin orange, which was grown with the tireless efforts and wisdom of the people involved in cultivation and the pride of protecting the highest quality, is an
exquisite mandarin orange filled with mellow sweetness and mellow richness!
Also, smaller oranges have a thinner skin and a stronger taste!
If you eat at home, we recommend a smaller one.
*Not all oranges apply, so please refer to it as general knowledge.*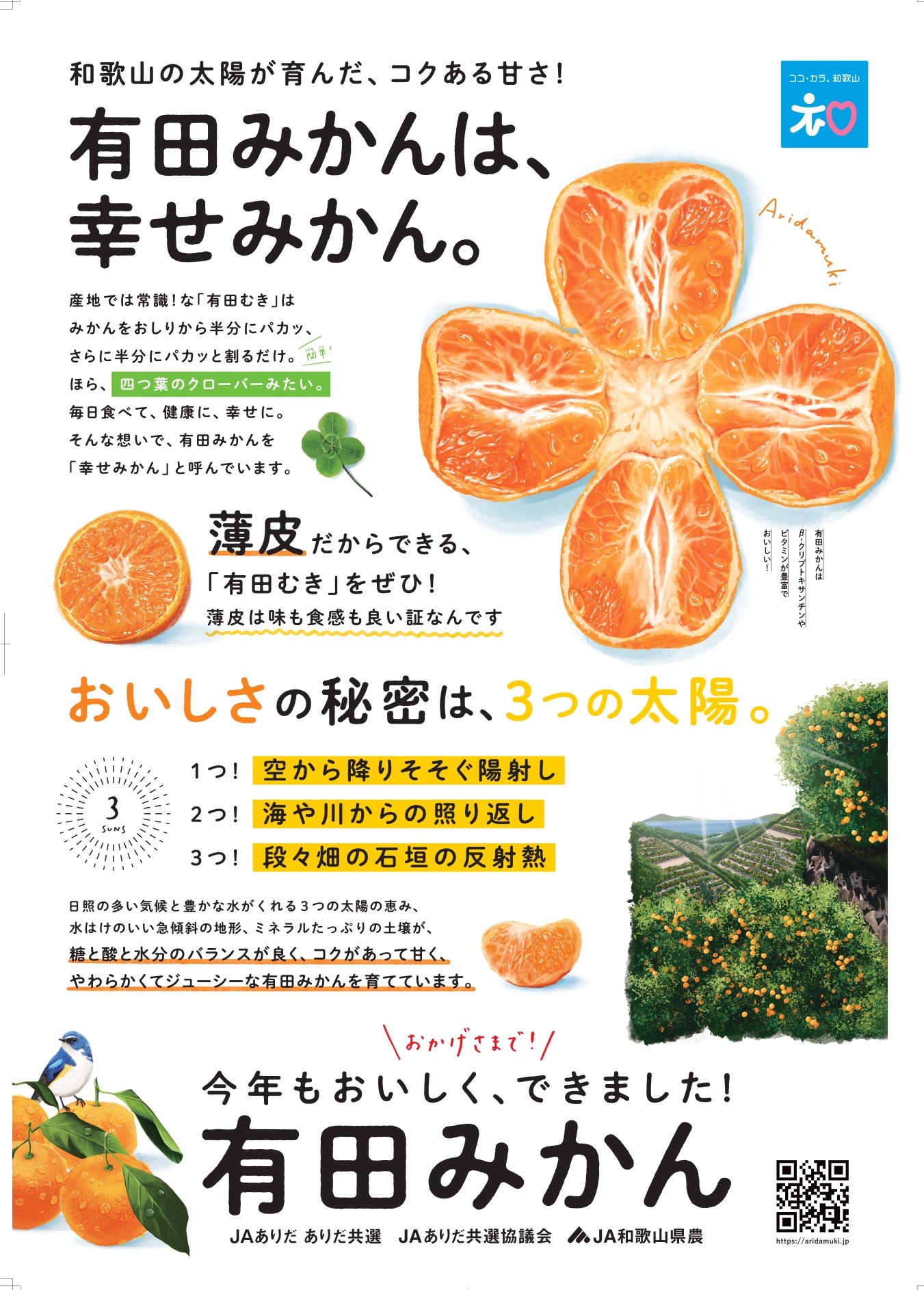 What is Arita mandarin orange?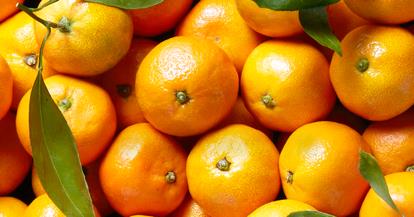 It is a representative brand of mandarin oranges that is produced mainly in the Arida area of ​​Wakayama prefecture, which has the largest production of mandarin oranges in Japan, and boasts a history of about 450 years. Characterized by its rich sweetness and rich taste, Arita oranges were certified as the first regional collective trademark in 2006. Arita mandarin, which has been blessed with a warm climate and abundant location, is rich in three nutrients, vitamin C, vitamin B1, and β-cryptoxanthin, and is also characterized by easy access to nutrients.
<What is Arida Muki?>

① First, split the top of the fruit in two with your left and right thumbs ②
Divide half of ① further
③ Divide it into quarters in the same way as ②
④ Carry it to your mouth
Mandarin oranges are especially high in vitamin C. The daily vitamin requirement (100 mg) for adults can be taken with 2 to 3 oranges. Vitamin C has an antioxidant effect and a function to boost the body's immunity, and can be expected to prevent colds and influenza. Vitamin C also has the function of suppressing the enzyme (tyrosinase) that causes age spots and freckles, and can be expected to have a beautiful skin effect.
In addition, it can be expected to suppress bad cholesterol (LDL cholesterol) that causes arteriosclerosis such as myocardial infarction, angina pectoris, and cerebral infarction.
How to peel oranges (Muki Wakayama, Muki Arida)
How to peel oranges (Wakayama peeling, Arida peeling) taught by a mandarin orange farmer in Wakayama. Wakayama Prefecture has the highest production of oranges in Japan. This method of peeling is a high-speed method that many people in Wakayama know. It is called "Wakayama Muki" nationwide, but it is called "Arida Muki" especially for people in the Arida region where cultivation is flourishing. Peeling Wakayama is easy and fast. Besides, it peels off cleanly and is hygienic. Even if you leave it uneaten, you can easily save it.
On this page, we will introduce the method of peeling Wakayama (Arida Muki) quickly and cleanly from the viewpoint of a mandarin orange farmer in Wakayama. The best time to eat oranges is from November to January. We hope you will try Wakayama Peel once. Let's take a look at how to peel it off.

Hold the mandarin orange with the calyx down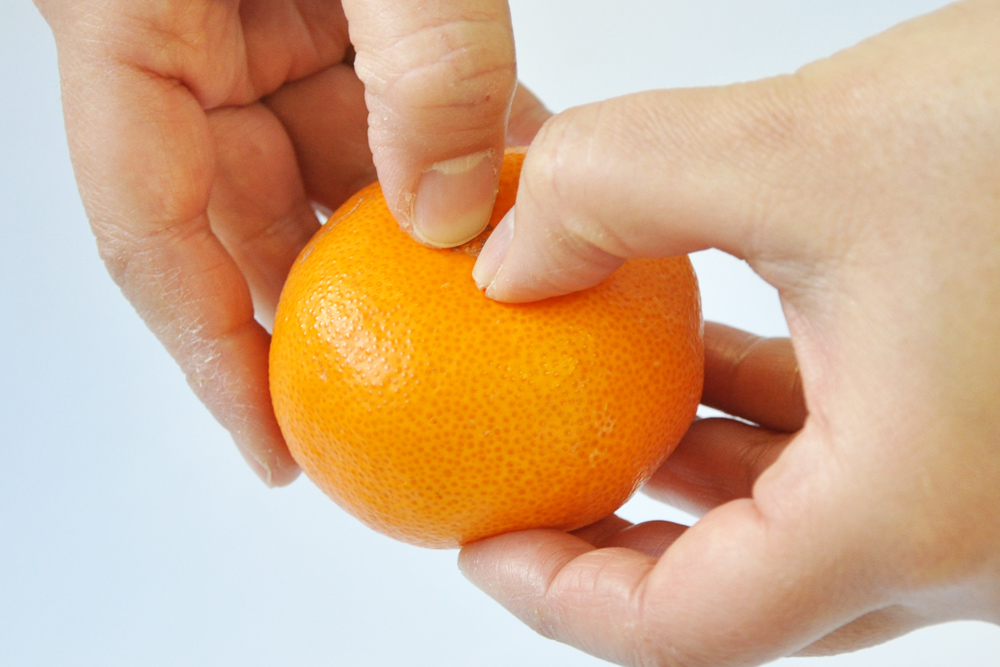 First, hold the mandarin orange in your hand and turn the calyx downward. It is important to peel off in this direction, so be careful not to make a mistake.
Divide the mandarin orange in half
Insert your thumb nail into the slightly recessed navel in the center of the mandarin orange and divide it in half. At this time, leave the lower calyx part without separating it.
Divide into 4 equal parts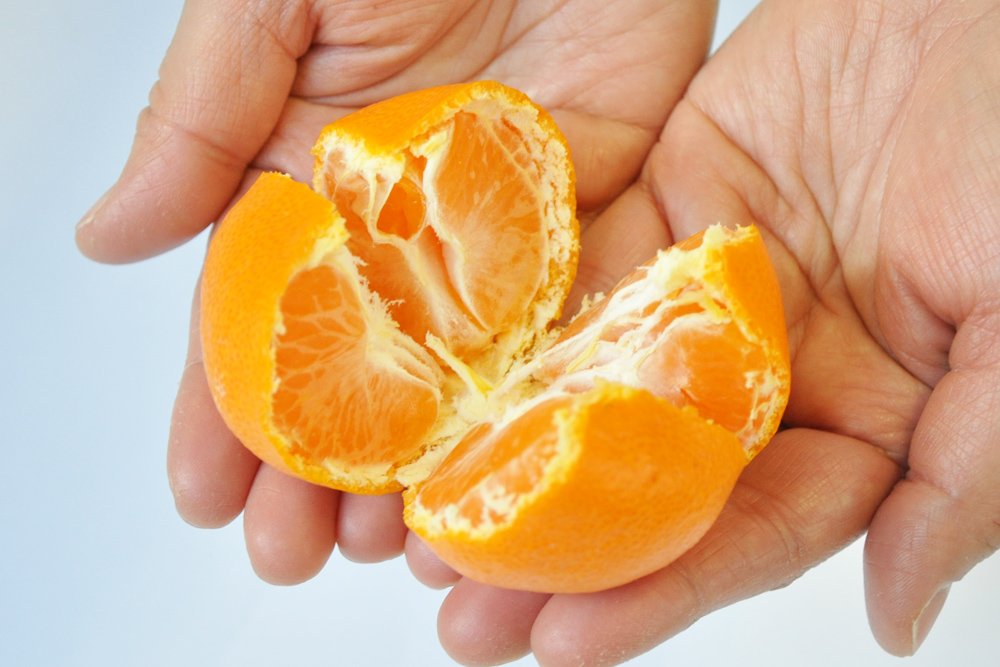 Divide the mandarin oranges in half and divide them in half (divided into 4 equal parts). Also at this time, do not separate the lower part.
Broken into 4 equal parts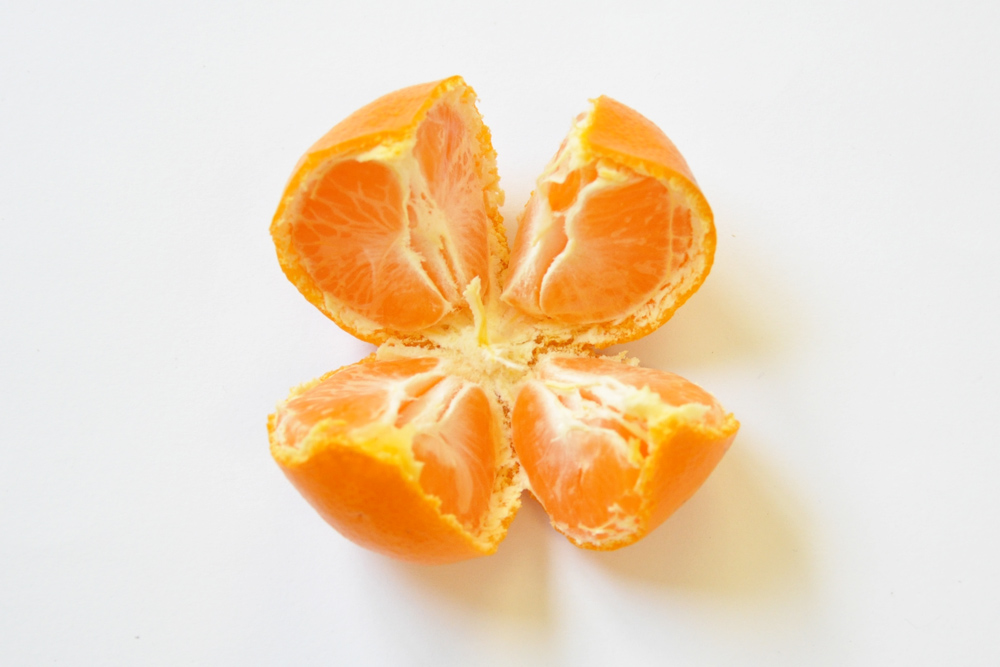 It was split into 4 equal parts. The number of mandarin orange bunches is about 10 to 12, so if you divide it into four equal parts, one piece will be about three bunches.