Japan Yamanashi Takumi no Budō Yuho 雄宝 Seedless Grapes Gift Box (700g)
This product is currently sold out.
Yuho grapes that have been bred and bred with "Tianshan" and "Shine Muscat".
Yuho is a maximal grain variety and is a golden diploid variety.

The maturity period is mid-September in Misaka-cho, Fuefuki City (elevation 300m), which is slightly later than Shine Muscat. 
The fruit cluster of "Yuho" is conical, and if nothing is done, the fruit is oval and large, and the skin color changes from yellowish green to yellow.

However, most of the products on the market are treated with gibberellin to eliminate seeds, and due to the effect of this hormonal agent, the berries grow to about 25 g, and the shape of the berries is flat or dented at the top. Tends to be. Even in the photo, the large grain weighed more than 30g.
Also, one of the major features is that the skin is very thin and you can eat the whole skin. The flesh is firm, and when you eat the whole skin, it is crisp and has a lot of juice.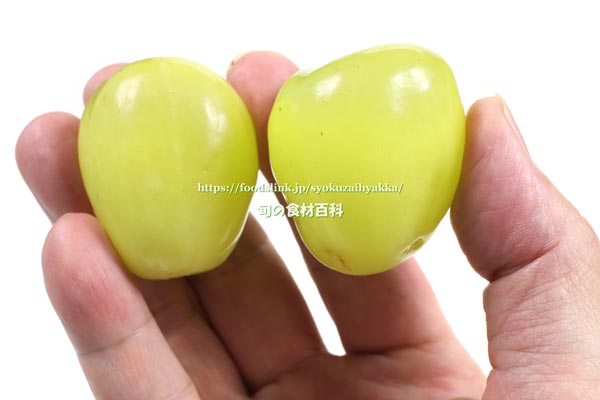 When the skin is thin and grows in sunlight, it tends to be colored golden, so it is finished in a beautiful yellow-green color by shading it with a bag.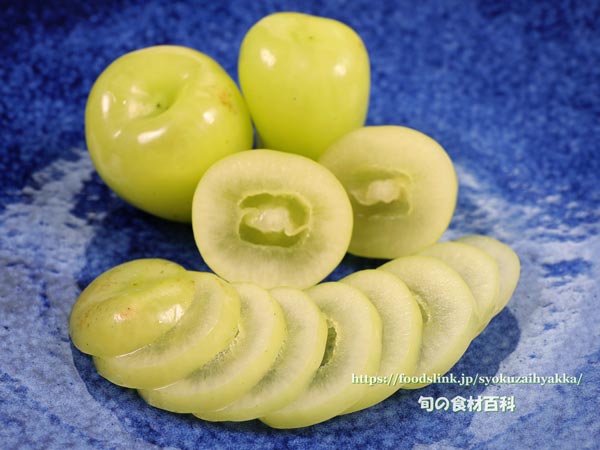 Many of the berries were shaped like human molars, and the larger ones weighed more than 30g. Looking at the cross section, there are no seeds, instead there are cavities.
 The flesh is firm, does not lose its shape even when sliced ​​thinly, has a moderate texture, and is moderately sweet, but the sweetness is not so much felt, so the sweetness is even more pronounced, but the aftertaste is It's refreshing.
 You can eat the whole skin, so it's delicious to eat one after another. However, it was a pity that there was no muscat scent.